Video Editing - Promotional Video - Flash Video Players - Standard & High Definition - Motion Design - FX
A quick look at our DVD projects, mouseover or click for more details.
If you are looking to use DVD's to promote your services please check us out. Savvy business owners use DVD's to promote their services. Our DVD Authoring brings about a perfect mix of professionalism and fun. Why be boring!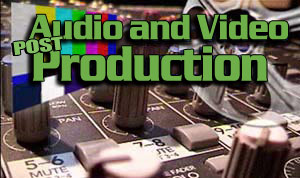 Our Post Production Editing Suite provides you with Digital Video Editing to prepare your video content for the Internet. We can do high quality conversions to streaming, H.264 or MPEG Video. We capture to a 2 Terabyte system and for analog a 10 bit video encoding, CCIR 601 4:2:2 DPS "Perception" Digital Disk Recorder with over 3.5 hours of SCSI Component Video Storage. We currently use a Canon HV40 HD and a JVC KY-19 for acquisition. On the Audio side we use a Mackie 1202VLZ with a 96 kHz LynxOne Studio card. Shure, Rode, Nady and Electrovoice Microphones, assure your voice-over and sound effects will sound as good as the Pros. For your analog video needs we process tape with a DPS TBC-IV Time Base Corrector and then send it to a set of Panasonic 7500A SVHS Industrial Tape Decks for its destination.